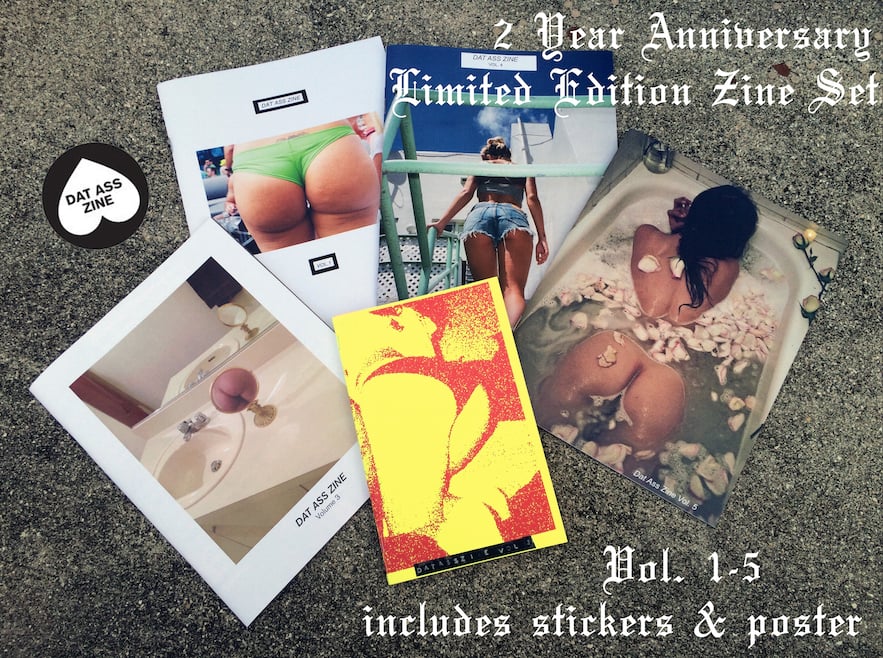 Dat Ass Zine Set
2 Year Anniversary Zine Set. Vols 1-5
Each Zine set includes 1 copy of each zine, a signed 18"x 24" never before seen poster and limited edition sticker pack.
Each Zine has been made in edition of 69, very rare! This is the only time I will be listing these or selling them as a set.
Zines are made to order! Please allow 2-3 weeks for US shipping
3-4 weeks for international shipping. Zines are mailed out every monday.
Articles on Dat ass zine include:
http://www.highsnobiety.com/2016/03/03/dat-ass-zine/
http://www.konbini.com/us/inspiration/dat-ass-zine-celebrates-beauty-butts/
http://newhorizon.hu/galleries/oda-a-noi-seggekhez/
https://www.opnminded.com/2016/03/09/dat_ass_magazine.html
http://www.lifeandstyle.la/cultura/2016/03/03/una-revista-para-los-que-aman-los-traseros
http://www.ladn.eu/actualites/dat-ass-zine-mag-amoureux-fesses,article,30550.html
http://www.artschoolvets.com/news/2016/03/07/172459/